Domaine de Larchey
Domainedelarchey.com
« Un havre de paix ... dans un écrin naturel »
YES, of course!" was my joyous reply to an invitation from my lovely daughter Léanne, to spend some soul smothering mother-daughter quality time during her June visit to the French countryside to attend a huge family reunion, a "cousinade" as we call it here in this beautiful southwestern corner of France where I live today. No less, was she proposing to spend the weekend in a gorgeous hotel (think castle!), the Domaine de Larchey, that I had been following on Instagram for a while as its manicured castle like grounds and starred kitchen chefs plates were photogenically appetizing. I will confess, I'm a foodie and an epicurean overall if there ever was one. Well, my daughter is truly a mini-me for sure! Needless to say, I couldn't wait for Léanne's arrival.
And what a weekend this was! The alley leading to the perfectly charming 1847 built French style stone walled mansion bordered by blooming rose bushes sets the mood that we would feel during the whole stay. We were warmly greeted by Marie, a lovely young woman that enjoys her gorgeous work environment at the Domaine de Larchey, you can tell by all the anecdotic details she will take the time to freely offer her guests and large smile she wears throughout her day. We rapidly realized what a true gem the Domaine de Larchey really is, as the pampering does not stop from hosts in this castle-like environment that only caters to 15 rooms, and we can only feel privileged by the showering of attention that a small number of guests like this can allow. Léanne greatly needed this wonderful break from the busy New York lifestyle. And I most selfishly wanted relax time with my daughter.
Our surprising room! More so a suite, very spacious per european standards indeed. Recently remodeled and tastefully decorated, high ceiling with plenty of windows giving onto the front courtyard and the parc with its swimming pool area, a huge bathroom with roman bathtub and separate spa shower... we are on a pampering schedule. And very unique, as parts of the ceiling are glass to reveal the old wood work that frames the mansion. All the hotel's rooms are decorated in different southwestern France region traditional styles, as Winery, Basque, Landaise... Léanne is in French heaven, takes it all in, and is now in personal Princess mode with such surroundings!
Turns out, we were in the Bridal suite, which - pretty smart I will add- includes a dressing room area with head to toe mirror so that the bride-to-be can set the wedding dress details lovingly... The Domaine de Larchey's beautiful French countryside setting is sought after by romantic couples, as they cater to the full wedding programme: intimate outdoor ceremony venue in the arbored park surrounded by horses grazing close by, even the small chapel stands available, event rooms for the following cocktails and meals and dancing... They care for every detail which will make every and any event a success.
The Domaine of Larchey's "Restaurant 1930" held ALL its promises when dinner time came along. I am now an official fan! Bravo to Chef Guillaume Germanaz and his A-team that we had the chance to meet in the busy kitchen, all smiling looking so happy to please by their talents their even happier table guests. A "sans faute" (translate "without fail") as far as we are concerned. My personal assessment: for Chef Germanaz, it is the research in perfection of the overall experience. Challenging your palate to different savory associations (salty/sweet), intimately revealing them while offering a myriad of different consistencies in one plate (crunchiness/smoothness etc.), and offering his guests such an artful display of his culinary talents that you hesitate to dig in as it is so pretty to look at! All a concept that we love and respect, a small Carte offering with all perfectly prepared dishes with ingenuity. But dont take my word for it, look at the photos. Wow. Thank you Chef! And special thanks to Carine, our wonderfully attentioned restaurant hostess that apparently can make all things possible! And with such a beautiful smile, so gracious with her guests. We had a delicious evening I would say, enjoying the warm weather in the courtyard terrace setting, at candlelight when the night fell upon us. An opportunity for my daughter and I to relax and chat of all her aspirations... As good as a Maman as I can be, I insist on telling Léanne that the world is her oyster, she can take on any challenge as she is so strong willed and talented in every way, and she impresses me greatly. Yes, proud mommy here.
What a beautiful next morning. A very comfortable night's rest, a stroll out to the spa pool in my robe offered in the room, a relaxing moment by the magnificent hundreds of years old oak trees in the park.... this weekend is all about relaxing and pampering pleasures. Quite unbelievable that all this relaxing environment of the Domaine de Larchey is so close to the busy UNESCO World Heritage city of Bordeaux, and in the heart of the most famed wine region of the world? And at the price of a 3 star hotel with a 5 star service and amenities. A fantastic rest stop for anyone visiting this southwestern corner of France that Léanne and I are soooooo in love with. Wowed.
Unsurprisingly, the breakfast buffet is outstanding. Carine was there once again to cater to her guests every need. We linger on the charming terrace enjoying our meal of house made breads and regional delicacies, honey and jams, charcuteries and cheeses... and why would we ever want to leave??? Oh yes, we had to make our way to the family reunion. If not, we would have stayed longer as we were feeling all this positive energy around us. Carine helped us with our luggage back to the car, such a kind lady. A last glance at the beautiful Domaine de Larchey's peaceful romantic grounds, fountain, flowers, trees, horses....... feeling all so genuinely good. Thank you Universe.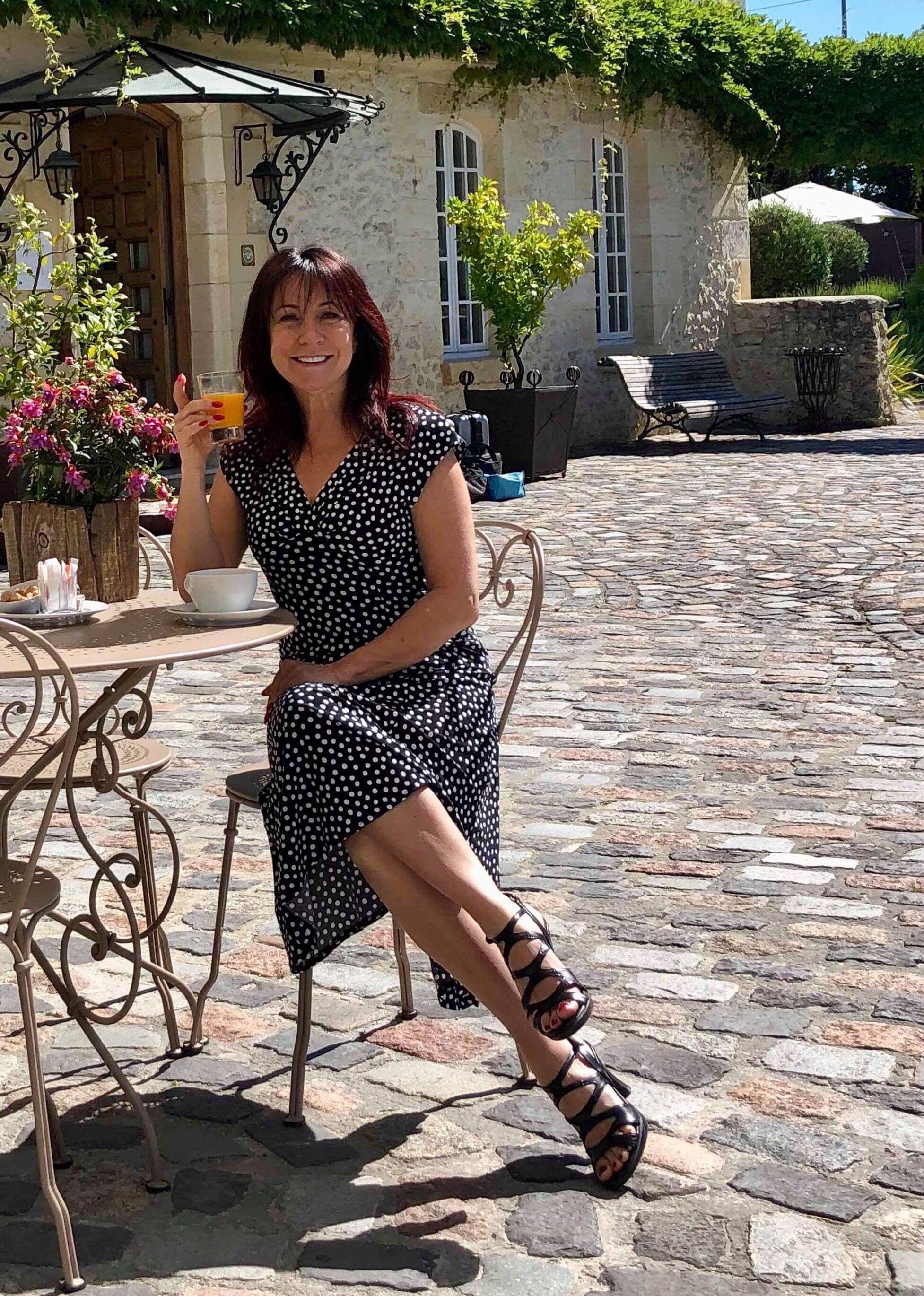 Léanne's maman is an enthusiastic French-American world traveler having circled the globe and visited over 60 countries glass of wine in hand and camera in the other, journalist, photographer and translator. Above all, a positive thinker believing that a smile can change a person's day, and spiritually thankful for all the universe has blessed her with. Especially for her lovely daughter, your oh so cute Léanne!!
You can contact & work with Aimée here: AimeeFawn.com